Best of Botswana Food, Restaurants and Accommodation
You cannot go wrong with the best of Botswana food, restaurants and accommodation!
So much for meeting Botswana people and feeling finally settled in Botswana.
But.....it gets better when you sample the best of the local traditional cuisine and hospitality.
---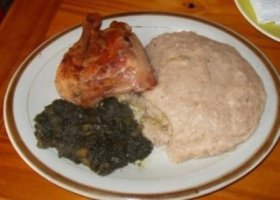 Botswana food is unique to the country....
However some of this food is common among the southern African countries.
Traditional cuisine such as papa le seswaa (maizemeal porridge and crushed boiled beef) or mabele, morogo le nama ya kgomo kana koko (sorghum porridge, leaf vegetables and beef or chicken) make up a regular meal in almost every family home in Botswana.
---
Restaurants where?
The best of Botswana restaurants are found in all the major shopping malls in Botswana.
These also are found in almost every major place where they provide all types of food to include Botswana traditional food and western meals.
---
The really big modern shopping malls are in Gaborone and Francistown:
Gaborone Main Mall: first mall in Botswana and the official centre of Gaborone City.
Riverwalk Shopping Mall: first ever super-mall in Botswana. A place with exquisite shops for food, clothing, a supermarket, entertainment and cinema.
Game City Shopping Mall: the busiest super-mall in Gaborone with the biggest parking space that is always fully packed.
Galo Shopping Mall: the super-mall in Francistown is the only one of this type outside Gaborone.
And there are many other shopping malls; go here to read about them.
---
Botswana hotels and hospitality services are renowned for their high quality and uniqueness.
A majority of these are of international standard.
There are those few that stand out as the leading hotels in the country:
Gaborone Sun Hotel in Gaborone: also known as the G-Sun it stands as one of the best hotels in Botswana. It is one of the first hotels to be built in Botswana.
Grand Palm Hotel in Gaborone: was voted Botswana's leading resort in 2009 at the World Travel Awards. Truly deserving of the award, the Grand Palm is an exquisite resort hotel with two hotels and a world class convention centre.
Mowana Safari Lodge in Kasane: one of the most elegant hotels in Botswana. Mowana the baobab tree popular in the Chobe area is reflective of the stature of the Mowana Lodge.
Chobe Marina Lodge in Kasane: a pleasant place to stay in when in Kasane.
Cresta Hotels and Lodges in Botswana: a branded group of great hotels across the country.
Read more about Botswana Hotels and Hospitality Services.