Botswana Dance
There is a wide range of Botswana dance styles and routines which have strong linkages to the Botswana culture.
The common dance styles include borankana, phathisi, setapa, tsutsube, ndazola, Kalanga hosana, chesa, huru, mokomoto, selete and the more popular San or Basarwa Dance.
Botswana traditional dance stands heads and shoulders above most African traditional dance.
It is unique, rhythmic and expressive; at times used for healing and storytelling.
For most of us the San dance has two distinct styles that stand out among their various dance styles.
On one hand there is the trance dance which is part of a religious ritual performed for healing the ill by clapping, dancing and chanting

The Hambukushu have a similar trance dance which serves the same purpose, but they call it njangura. The dance is performed at night in full view of onlookers, of course, from early evening and may last somewhere between 3 and 8 hours.

The ill persons to be healed are placed somewhere next to a fire (well....mostly a bonfire!). As the dance proceeds at gradual pace, the ill person starts to respond on the mat from a half-conscious state to a more invigorated rhythmic movement.

every time the music and dancing stop the sick person would lie down only to recover when the routine resumes; and that will go on for a while. By early morning the sick will be fully or partially healed.

On the other hand there is the hunting and gathering dance (sometimes referred to as the rain dance) which the Sarwa use to celebrate for good hunts, while the Tswana ethnic group use it for rain making or 'go fetlha pula'. The Basarwa are classified as hunter-gatherers, therefore perform the rain dance as a celebratory dance to thank Gods for every successful hunt.
Read more on the Basarwa dance.
However, if you want to witness a truly spirited Basarwa dance, you should attend the Kuru Dance Festival which takes place every two years in August lasting up to three days.
The festival marks a celebration of the Basarwa dance style and takes place in a small village called D'Kar within the Ghanzi District.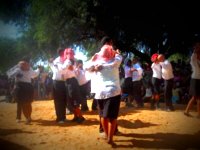 ---
Polka Dance
Boerewalf or Polka Dance is popular in the south western parts of Botswana. The dance is usually performed by couples moving in circles in formal attire.
The Dance was introduced by white farmers and the Dutch when they arrived in southern Africa.
---
To read about more dance styles in Botswana, please go here.
---
Return to Botswana Arts and Crafts page
Return to KnowBotswana homepage