Dr. Gaositwe Chiepe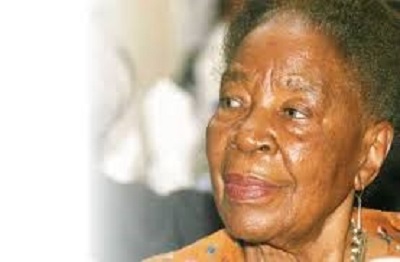 Dr. Gaositwe Chiepe
---
'I remember one time when I had travelled and I was sitting by the fountain, when a little girl came over and sat next to me. She started rubbing her hand on my skin. Time and again she would check if I am rubbing off, I think she was fascinated by me. That was the beginning of our friendship. Her parents invited me to their home in Sweden, all expenses paid by them. I didn't pay a thing'. This is Dr Gaositwe Keagakwa Tibe Chiepe who is instrumental in the formulation of the Botswana education system, as she mused about one of her memorable experiences in an illustrious career as lead educator and first woman leader in Botswana.
---
She is best described as educator, intellectual, daughter, mother, grandmother, politician, cabinet minister and diplomat.

Beginning
Dr Gaositwe Keagakwa Tibe Chiepe was born in Serowe,1926 daughter of T.  and S.T Chiepe(nee Sebina).Her father died when she was very young and her extended family wanted her to leave school and get married, but her mother insisted she stays in school to continue her education. Chiepe, undoubtedly attributed her successful career to her mother's insistence that she be educated.

---
Education
Dr. Chiepe, generally referred to as Mma Chiepe, went to primary school in Serowe in the central district, and then proceeded to do her secondary in Tigerkloof, South Africa.

She proceeded to do her Bachelor of Science Degree and Post graduate Diploma in Education at the University of Fort Hare. Then she later went to do her Master's Degree at the University of Bristol, England in 1958. The title of her thesis during her post-graduate studies was 'An Investigation of the Problems of  Popular Education in the Bechuanaland Protectorate in the Light of Comparative Study of Similar Problems in the Early Stages of English Education and in the Development of Education in Yugoslavia and Uganda'.

---
Honours
She also holds honorary doctorate degrees from the Universities of Bristol and Depaul. Dr Chiepe was awarded national honours by both Great Britain and Botswana and was named Chief Councillor of the Royal Order of King Sobhuza II of Swaziland. She was a member of Parliament (MP) for Serowe South, Central District of Botswana and represented Botswana as high commissioner and ambassador extraordinaire  and plenipotentiary to many European countries.
The highlight of Dr. Chiepe's career was when she was instrumental in the formulation of the Botswana education system.

---
Public service
She was the first woman education officer of Botswana. An assistant teacher from 1948 to 1953; education officer from 1948 to 1953; education officer (with administration and inspectorate duties) from 1953 to 1962; Senior Education Officer 1962 to 1965;  Deputy Director of Education from 1965 to 1967; and Director of Education from 1968 to 1970.She was National Deputy Commander Of Girl Guides in 1953,1957 and 1963, Botswana Branch, Commonwealth Parliamentary Association (CPA), 1981; Chairman of the African Region of the CPA,1981-1983.

---
Parliament and Cabinet minister
Mma Chiepe was the first woman cabinet minister in Botswana when she got appointed the Minister of External Affairs,1984-1995 after being previously cabinet minister of mineral and water affairs, 1977 to 1984, minister of commerce and industry, 1974-1977.She had also been Botswana's high commissioner to the United Kingdom and Nigeria and Ambassador extraordinary and plenipotentiary to France, Germany, Denmark, Norway, Sweden and Belgium and to the European Economic Community (EEC).
She actively participated in negotiations with EEC for Lome I, Lome II and IV and was chairman of the Organizations of African Unity (OAM) communal of ministers. Chiepe travelled widely in Southern Africa; Europe, the United Kingdom, the United States,,Canada, China, the Caribbean, Asia, Australia, New Zealand, Japan, and the Pacific Islands. She was a fellow of the Royal Society of Arts(1973),honorary President of the Kalahari Conservation Society (1982)  and patron, Forestry Association of Botswana (1984).

---
Post public service life
Dr Chiepe retired from public service in 1999 after nearly 30 years of high level positions. The University of Botswana awarded her an honorary Doctorate of Laws in 2009 for her outstanding work in the development of the country.
In 2013, generally in one of her last active public engagements she was the headline speaker at Botswana's International Day of Older Persons held in the Mokolodi Nature Reserve, saying, 'We want to be the 'aged in counsel and the young in action. Let us, as the elderly not be relegated to being dinosaurs but utilize our knowledge and hard earned wisdom to only increase our relevance and longevity in society, but also increase the contact between the generations, bridging the gap between young and old'.
However, lately she does not make many public appearances, as she spends much time at home with her family.
---
Life's Works 
While Mma Chiepe's grand-niece Moduduetso Lecoge wrote a play based on her life and she (mma Chiepe) also wrote the following publications;
Thesis(Ph.D) University of Bristol,1957 An investigation of the problems of the popular education in the Bechuanaland Protectorate: in the light of a comparative study of similar problems in the early stages of English education and in the development of education in Yugoslavia and Uganda
Chiepe, G.K.T(1973) Development in Botswana
Rensburg Patrick and Chiepe Gaositwe (1996) Education with Production-An overview [and]  The Botswana Brigades