Dr Festus Gontebanye Mogae -
Third President of Botswana
In his post-presidency life, when Dr Festus Mogae was asked what he misses most about the presidency, or if he still wishes to go back to the role, he said he has had enough….. probably the only thing he misses is a ride in a presidential helicopter!
Very modest.
This is the man who has set the benchmark on relinquishing power the right way. In Botswana a president is limited to two five-year terms in office. At the end of his second and final term after serving as President of Botswana from 1999 to 2008, Dr Mogae handed over the presidency and left.
Modest indeed, intelligent, visionary, clear and unambiguous, determined, a statesman, a pan africanist by expression and action; he saw something he termed afro-pessimism where there was insistence on seeing Africa negatively, but believed Africa was improving.
In truth, more African countries have become democratic, with an average economic growth of 4.7% in the 2000s.

---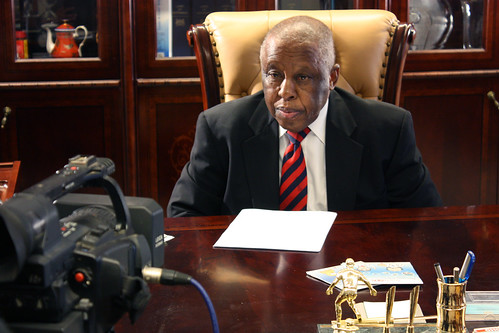 Former President of Botswana - Dr Festus Gontebanye Mogae
---
Leader - Born or Made?
A bit of both. 
He was a child of a headman, or sub-tribal chief, which means a member of royalty and therefore born into leadership.
Yet, he played roles of leadership for a significant part of his life while growing up, learning the art of leadership. He was nominated a student leader when he became the Secretary General of Botswana Overseas Students Union whilst a student in the UK. During his service in government he worked for some time and had to make decisions quite early in his career. That he worked in government automatically made him a leader because at the time there were few people in formal employment nationally, and his activities and decisions placed him in a position of authority. 
Dr Mogae also had to learn leadership by watching those in leadership positions. For instance, he had both of his predecessors - Sir Seretse Khama and Sir Quett Masire, as his role models. The more interesting case is his school principal for a role model,  who Mogae saw as a self-made man, a value that bears qualities of resilience and being visionary. He regarded all of his role models to be traditional but educated, liberal and open minded. 
Overall, watching his role models was a preparation for the role - the making of a president.
---
His beginning
Dr Festus Gontebanye Mogae was born in the year 1939 on the 21st of August in Serowe, Botswana. His father was a headman of the Batalaote, a Kalanga clan among the Bangwato. Dr Mogae comes from a family of farmers and pastoralist who were poor. In an interview during a session of the Daily Trust African of the year award, he stated that his family reared livestock and ploughed corns and beans for their livelihood.
---
Education
Dr Mogae explains that he started his schooling when he was 11 years old in the 1950's because his parents could not afford to send him to school earlier and they didn't appreciate the importance of education as they were not literate themselves. After completing secondary education at Moeng College in the Tswapong area within the Central District, he went for more studies in England where he did his A Level at the Northwestern Polytechnic in London. Dr Mogae then went on to study for his degree at the University College, Oxford and Masters in Development Economics from the University of Sussex.
---
Family
He got married to Barbara Mogae in 1967 and they had three daughters, born between 1970 and 1987 namely Nametso, Chedza and Boikaego.
---
Public service
In 1968, Dr Mogae joined the Development Planning Ministry (later known as Ministry of Finance and Development Planning) and became one of the most important people who made the economy of Botswana to rise. He was recruited by the International Monetary Fund in Washington DC in 1976, as an Executive and Executive Director for the Anglophone Africa.  
He then returned home to serve as the Governor of the Bank of Botswana from 1980-1981 then went on to be Permanent Secretary to President Masire in 1982.
---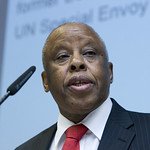 ---
Politics
The relationship between Masire and Dr Mogae led to him leaving the public service job to join politics in 1989 under the ruling party Botswana Democratic Party (BDP). After joining politics Dr Mogae was named the Minister of Finance and Development Planning. "In our constitution we have a provision that four people are to be elected by Parliament that's how I then joined politics. When I joined politics I didn't have a  constituency for my first term in Parliament, then after my first term I had to have one for elections, that's when I stood the Palapye constituency", added Dr Mogae. 
He then later ran for Member of Parliament for Palapye in 1994, where his father had been the headman. He won and was appointed the Vice President to President Masire after the resignation of Peter Mmusi. He was Chairman of Southern African Development Community (SADC) Council of Ministers from 1992 until 1996. 
"I decided that I would become President when I was a civil servant in the Ministry of Finance and Development Planning," says Dr Mogae during an interview at the Daily Trust African of the year award ceremony.
---
Presidency
In April 1998, Dr Mogae was named the 3rd President of the Republic of Botswana when he succeeded President Masire. Dr Mogae's party, the Botswana Democratic Party (BDP), retained power in the October 1999 general election.
Dr Mogae was sworn in for a five-year term on 20 October 1999 at the National Stadium in Gaborone, where he vowed to focus on the fight against poverty and unemployment. However, these determined and noble intentions played second fiddle to HIV/AIDS when the epidemic emerged and became a major focus of his agenda for the entire period of his presidency. 
When he was appointed President he then chose Ian Khama as his Vice President. Dr Mogae continued the policies of his predecessor, of the national vision 2016, the fight against HIV/AIDS, poverty and unemployment, and successfully steered the nation and economy through difficult times. He made himself internationally distinctive among African leaders by acknowledging the plight of the epidemic on his nation, and invested much of his attention to it.
In 14 July 2007, Dr Mogae confirmed his intention to resign nine months later. He stepped down as President on 1 April 2008 and was succeeded by Vice-President Ian Khama.
---
Post-presidency
Mogae carried the battle against HIV/AIDS to his post-presidency activities when in 2010, he joined the advisory board of US non-profit Teach AIDS. 
He also has other multiple roles to play. In 2013, alongside the former President Benjamin Mkapa of Tanzania, Dr Mogae co-chaired a sustainable development symposium, hosted by the UONGOZI Institute in collaboration with Club de Madrid organisation of which they are both members. He is a Trustee of the Rhodes Trust since 2010 and in 2016 Festus Mogae was appointed a Foreign Honorary Member of the American Academy of Arts and Sciences. He also currently serves as chairman of the Choppies supermarket group where he is also a shareholder.
---
Recognition
Dr Mogae was awarded the Grand Cross of the Légion d'honneur by French President Nicolas Sarkozy on 20 March 2008 for his "exemplary leadership" in making Botswana a "model" of democracy and good governance. He also won the 2008 Ibrahim Prize for Achievement in African Leadership and will receive US$5 million over 10 years and US$200,000 annually for life thereafter. At London's City Hall on 20 October 2008, former United Nations Secretary-General Kofi Annan stated: "President Dr Mogae's outstanding leadership has ensured Botswana's continued stability and prosperity in the face of an HIV/AIDS epidemic which threatened the future of his country and people." He has received a number of honours such as Naledi Ya Botswana (directly translated to Star of Botswana) – in 2003, the highest honour that can be bestowed on a person in Botswana.
In 2014, Former President Dr Mogae was given a Doctorate Degree by the Ghanaian University for Development Studies (U.S.D) when he was invited by the University to share his experiences in pursuing the path of learning and sharing. The Former Vice President of Ghana Kwesi Amissah Arthur said he was grateful to U.S.D for having such a distinguished African to share his experience through the African Leadership lecture series and for honouring him with such a title.
Former President Dr Mogae is known as one of the finest African presidents in possession of a superior rare intellect and outstanding academic credentials. He has also been praised for the role he has played in African leadership with his experience and development of team spirit in the development of Africa and he is described as a person who has a distinguished personality and peace promoter for development and a believer of democracy.
---
Legacy
Dr Mogae's main challenge became his making and legacy - the fight against HIV/AIDS in Botswana. President Dr Mogae invited international assistance in the fight against HIV/AIDS and in a June 2001 speech before the UN General Assembly, he described the epidemic as a national crisis that threatened the very survival of his people. Dr Mogae promised to continue tackling poverty and unemployment as he set up the Mogae Scholarship Fund, as well as the spread of HIV-AIDS, which he pledged to eliminate from Botswana by 2016. 
This is the man - an honourable man, who when his time in office was up, he left gracefully and peacefully. A global statesman.