Botswana Pageantry
"And the 1999 Miss Universe winner is... Mpule Kwelagobe from Botswana!"
To date we are still hanging on to that moment.... I mean...well, wouldn't you?
---
Go to:
---
Miss Botswana Emma Wareus is Miss World First Princess!
First.....she was Miss Botswana 2010.
The winner of Miss Botswana 2010 was Emma Wareus in a tightly contested final of the last 16 beautiful Batswana girls.
The beauty contest was held on Saturday 22 May 2010 in the Gaborone International Conference Centre.
Her first princess was Naledi Moshoeshoe and her second princess was Bonny Serole.
---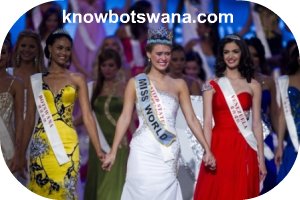 Emma Wareus didn't end there - now she raised the bar and won the prestigious prize of Miss World First Princess.
The Miss World pageant was held in Hainan Island, China on Saturday 30th October 2010.
Emma came second to Miss America Alexandria Mills while the third position went to Miss Venezuela Adriana Vasini.
Botswana was gratified and highly proud of Emma's achievement. Even more proud when she spoke like a queen - a leader, when asked a question as one of the 5 out of 125 remaining contestants:
"Miss World is about the pillar, femininity, it is the stature of women, children and even men....and I strongly believe I am the image."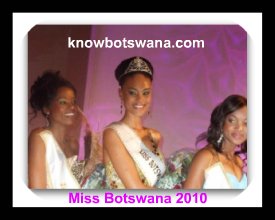 History of Botswana pageantry
Botswana pageantry runs parallel with the history of the country.
Even though there had been beauty contests conducted in various villages around the country in the early 1960s, the first Miss Botswana beauty contest was in 1967, conducted as part of Botswana independence celebrations.
At the time, it was determined that the colourful first beauty event was going to 'pick a perfect representative of the nation's modern womanhood.'
Theresa Rantao satisfactorily met those requirements. She became the winner of the Miss Botswana 1967. She was flanked by Elma Molemoeng and Lillian Taunyane as 1st and 2nd princess respectively.
Of course, earlier in 1964, Veronica Magosi of Lobatse won the Miss Bechuanaland crown. In 1965 the crown was won by Lydia Tiyo.
The methods for identifying the national queen by conducting auditions around the country were used then as they are used to date.
Over the years more other forms of pageantry were introduced such as the Miss Universe and Face of Africa, both of which Botswana has done well.
Botswana pageantry is a true celebration of the beauty of the Motswana woman and that of the country.