New Music Genres in Botswana
The Americans had Marvin Gaye, Sam Cooke, Etta James and Aretha Franklin who mesmerized the audience back then and the music industry kept evolving till we see young artists like Nicki Minaj and August Alsina. Same music trends are noticeable here in Botswana as we had artists like Ratsie Sethako who provided good folklore music sang in the native language Setswana. We now see the music industry progression as we have new music genres introduced by modern day artists.
---
---
Motswako
Motswako is a popular music genre that took southern Africa by storm from as early as the late 1990s. South Africa and Botswana have been the greatest pioneers of the genre, with artists such as the legendary and late 'HHP' (hrn Jabulani Tsambo) being the leaders alongside greats such as Tuks (hrn Tumelo Kepadisa) and Khuli Chana (hrn Khulane Morule) emerging in South Africa. 
In Botswana artists who include Nomadic (hrn Tebogo Mapine) and Mr T also known as HT Tautona (hrn Kelebogile Mabua) were pivotal in growing the genre but it was until some like Zeus (hrn Goabaone Game Bantsi) came into the picture that the genre catapulted to the mainstream. Zeus not only became a household name both at home in Botswana and South Africa with his breakthrough singles, he also pushed the envelope allowing other local artists to carry the genre to greater heights.
These artists include the Real Magosi (Kabo Moroka & Lancelot Bartlett),  Mosako (hrn Sego Rakobe) and Drama Boi (hrn Thuto Ricardo Ramphaleng) to name a few, if Zeus is said to have catapulted motswako Drama Boi has definitely cemented the genre as a favourite amongst locals. He has mesmerized listeners with songs such as "candy", others with catchy tags as "ga ke share'e court mare hupa" and collaborated with award winning South African artists such as AKA (hrn Kiernan Jarryd Forbes). He has won the Channel O award, a South African based Africa-wide based cable television music channel. This showed international exposure opportunity to many artists in Botswana.
Motswako continues to grow as more local artist have now started using their own tribal dialects which was unprecedented a few years back.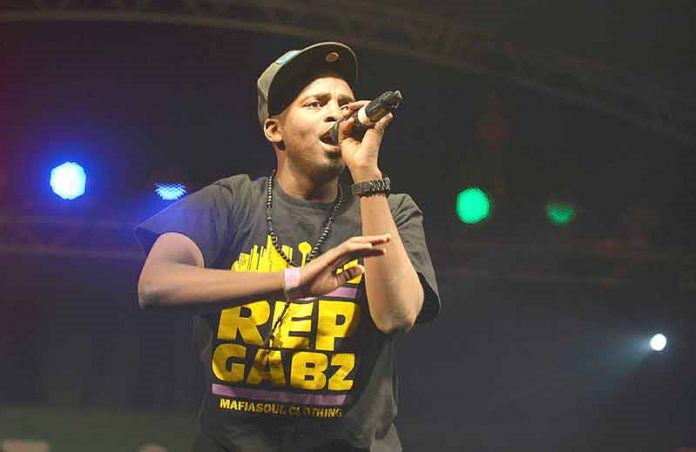 Above: Zeus (Photo credit Botswana Daily news)
---
Hip Hop
This is a borrowed genre, from America of course. One cannot talk about hip hop in Botswana and not mention Eric Ramco Records. This was a record company that housed great and influential artists from the group 3rd Mind (Eric Ramogobya) to artists such as Scar (hrn Thato Matlhabaphiri). Artists like G-son (hrn Gaolatlhe Kgomotso) and Kast (hrn Tshepiso Molapisi) became a common feature on the local television station BTV creating and inspiring a new generation of rappers. Great hip hop artists have now taken over the industry in the past 5 years as they are considered favourites amongst night revelers. Local artists enjoy television coverage through local television the BTV, Channel O, Trace, Trace Africa and radio stations.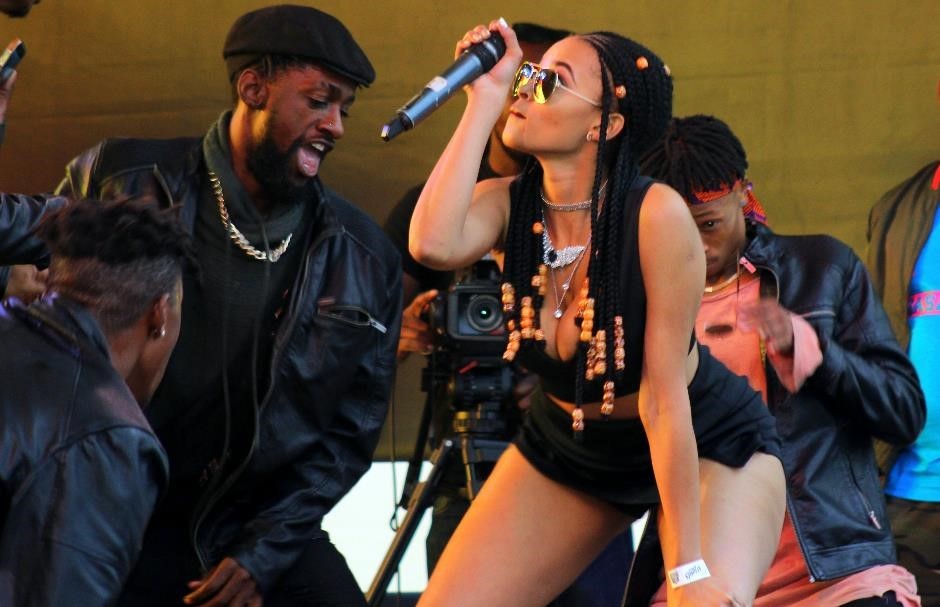 Above: Sasa Klaas (photo credit Botswana unplugged)
As hip hop culture saw more female rappers around the world it has not been different in "Bdub or 267"  as hip hop fans affectionately refer to it in Botswana. The emergence of a queen of hip hop was then inevitable, and Sasa Klass (hrn Sarona Motlhagodi) sat right on the throne with no rival opposing her for a long time. She has held her own among a male driven industry and has given other females the brass to "spit some bars". Trippy Rhe (hrn Monkgogi Moshaga) is a typical example of great female hip hop artists ready to contest for the throne between both her male and female counterparts.  Botswana Hip Hop gets its influence from American Hip Hop as the local artists grew up listening to the likes of Tupac, Snoop Dogg and other great new artists.
---
Kwasa kwasa
A clear way to describe Kwasa Kwasa dance is through comparison to Rhumba as the dances are performed by wriggling from the waist down with baggy and loose pants as the attire to complement the moves. The music is popular in the central parts of African especially in the Congo and we have had artists like Kanda Bongo Man, Pepe Kalle and Papa Wemba who emerged in the 1980s  and 1990s. 
The local music industry has done well over the years entertaining crowds during public and paid up shows throughout the country. Jeff Matheatau, Franco (hrn Frank Lesokwane), Chris Manto and Les Africa Sounds and Alfredo Mos are amongst great artists who managed to popularize the genre and get venues full through their Tlatsa Lebala concerts, one previously held at the National Stadium (Gaborone) in 2017. Famous songs which still get everyone on their feet include  "Ke lela le lona", "Ranaka", "Ipabalelo tseleng", "Sephiri se dule", and "issa".
As other music genres got introduced Kwasa Kwasa saw challenges resulting in the demise of many groups and the fact that assembling a live band is costly as well did not help either. This type of music requires live band with drums, key boards and aggressive dancers but the likes of Franco continue to be relevant entertaining the crowds.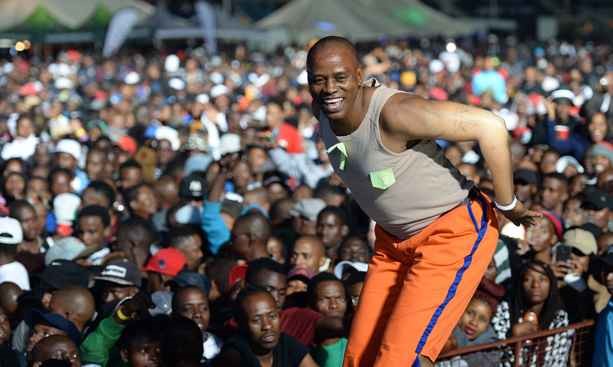 Above: Franco during a performance (Photo credit:The Patriot)
---
Kwaito (Kwasa-Kwaito)
The Kwaito music originated from the townships of Johannesburg and crossed over to Botswana and saw artists such as Mapetla (hrn Thabo Ntirang), Vee (hrn Odirile Sento), T.H.A.B.O (hrn Thabo Benson Bolokwe) and groups that include Eskimos (Kagiso Ketswantwa, Kabo Mmolawa, Goitsemodimo Binang & Keitshupile Mokwena) and MMP Family (Tebogo Baipidi, Modiri Nage & Mothusi Jackalas) emerge. One can single out Vee popularly known as Vee Mampeezy as he took the Kwaito genre to high levels and incorporating Kwasa Kwasa in the music beats to create Kwasa-Kwaito as the music beats became much faster requiring one to dance at a higher speed than the normal Kwaito dance. 
Vee's songs include "I do", "chika babe",  "waba tsile" and "dumalana". He has great international exposure as he is featured on international platforms such as MTB Base and Trace Africa through DSTV, the major African cable television. He has further toured the world covering places such as London, Birmingham and Leeds.
The wide coverage of Kwasa-Kwaito on local radio stations and TV saw other new artists coming in and it is important to note that females also came into the picture with the rise of Slizer (Naledi Lephoso Kaisara) who got well received in Botswana, Zimbabwe and South Africa to name a few. She is well known for her provocative sexual dance moves which get revelers up on their feet in awe. Her songs include "Kurubele", "Zimbabwe" and "a gonne worse".
| | |
| --- | --- |
| Slizer (Photo Credit  Victoriafalls24.com) | Vee ( Photo credit: The voicebw) |
---
Afro Pop/ Afro Jazz
The two sounds of Afro-Pop and Afro-Jazz are put together as they are of similar sounds and beats. The Botswana music incorporates South African Jazz and local traditional music from the folklore to make the sounds and rhythms more appealing to local and international audiences. Afro-pop and Afro-Jazz artists are few in Botswana but audiences can never lack quality variety songs to listen to. There was the introduction of the original jazz songs from the likes of Soccer Moruakgomo, Banjo Mosele, Ndingo Johwa, Shanti Lo (hrn Tumediso Loeto), Lister Boleseng and the Women of Jazz Ensemble ( Punah Gabasiane, Nono Disele,Nnunu Ramogosi, Kearoma Rantao). Popular songs from various artists one can look for include "ntsa e jele ntsanyana", "iyo nna", "pelo robala", "mosadi yo", "ndobolo", and "domboshaba". 
It must be recognized that award winning artist Banjo Mosele is a founding member of the Kalahari Band which backed up the South African artist Hugh Masekela. Furthermore he has played guitar for Masekela on three of his albums and has influenced young artists who came up thereafter.
Women of Jazz Ensemble (photo Credit revepnation.com)
Amongst popular Afro-pop musicians we have the mesmerizing Lizibo (Simon) with serenading songs like "malebeswa", "itshwarelaneng" featuring Tshepo Lesole, and "Nkabo Kele kae". Lizibo started singing at a young age and joined the famous KTM Choir at the age of 16. There is also the likes of Samantha Mogwe, Ashely Gops, Mpho Sebina, Juju Vine (hrn Ontlogelang Junior Sekolokwane), Mr Tagg (hrn Evans Modubule), Han C (hrn Hanceford Magapatona) and Motlha (Mompe).  The young Motlha reached fame after winning a local singing competition of My Star season 9. He went on to produce songs such as "mmamotse", "suzanna" and "hisa hisa" featuring ATI (hrn Atlasaone Molemogi).
---
RnB
RnB in Botswana was once in the shadows for quite sometime but has recently managed to gain popularity over the last decade. This can be directly linked to the female artist leading the pack, a legend in the making in this genre, Samatha Mogwe. She who won The Gabz FM karaoke competition in 2004 and later  participated in African Idol in 2008. She cemented her name as an industry leader and disruptor when she released her single titled Transition featuring hip hop legend Zeus.
Two other  industry disruptors are Amantle Brown and Sharon Sibongi who were participants of a local singing contest named my star. The show injected an energy in the industry and more artists emerged. RnB artists such Mpho Sebina, Thato Jessica, Louisa April, Gabby Roberts have brought an afro-futuristic and soulful sound bringing the local genre more ears in the international market.
---
Rock and Metal
Though not so popular, this genre has a fair share of following in Botswana. Batswana have come to know and appreciate the rock and metal music  through local artists who came through since 2000, even though it has always been present in Botswana for a long while.
There are a few bands who toured southern Africa while most played locally. Bands such as Nosey Road, Remuda, Wrust (formed in 2000), Metal Orizon and Crackdust, Barren Barrel and Skinflint. There are local themed shows which give platform to perform and wow their loyal fans.
The bands have performed at shows like Rock Against AIDS, and Botswana Woodstock. The first Woodstock Music Festival was performed in 1969 in the United States America for three days of peace and music. The festival has spread to other countries around the world aimed at raise money for charity and Botswana Woodstock raises funds for the underprivileged.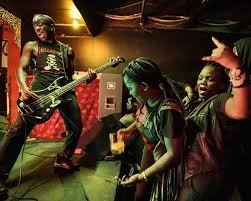 Local Rock band entertaining the fans (Photo Credit :Noor Images Botswana)
---
Gospel Music
Botswana is mostly a Christian based country but there are other religions that exist and are recognized in the country. Christian gospel music is very popular and widespread within the country having grown over time. The gospel artists in Botswana sing mostly in the two official languages (English and Setswana) but over the years there has been a noticeable change with artists choosing to use indigenous languages. Most singers started singing in their church choirs and eventually released singles and albums to offer more soothing gospel sounds to their fans.
Needless to say, giants of gospel music have emerged spurred on by early post-independence gospel shows on Radio Botswana. Knowbotswana has sampled a few of these giants to share a good story of the growing gospel music genre in Botswana.
| | |
| --- | --- |
| Phempheretlhe Pheto with Mmereki Marakakgoro | Tshepo Lesole |
"Phempherethe le jehova, lekunutu le morena…" this rings in one's head every time the name Phempherethe is mentioned. Phempherethe Pheto is one of the legends of gospel music in Botswana and has been in the music industry for 23 years. He released his debut album in 1997 titled "lekunutu le morena" and continued to entertain the fans with good songs such as Ke tshepile Wena, Ke Bonye Phenyo, Balatedi, My refuge is with God and No Fornicators.
Phempherethe as famously known by the fans has compiled all his songs since his first album and titled "Best of Phempheretlhe". He is definitely a forefather of Gospel music in Botswana and has worked with other legends such as Mmereki Marakakgoro, Mpho Nakedi, and other South African artists such as Sipho Makhabane. 
Born in Molepolole in March 28, 1972, Phempherethe perfected his art of playing keyboard/piano in 1993 and soon started writing his own songs largely inspired by the likes of Mmereki Marakakgoro, Derrick Ndzimande and Moruti Shoba. His music evolved with technology from cassette tape, compact disc to current date technology where fans for the legends can now watch and subscribe on YouTube to watch his video.
The other local gospel great is Tshepo Lesole. When one mentions the name Tshepo Lesole the greatest song that comes to mind is "nkabo kele kae". The son of retired pastors, he does not sing gospel as a hobby, he is a firm Christian and puts God first in everything he does. The Kanye-born lad is multi-talented as he is also a top notch producer as well and has worked with renowned artists such as Lizibo, Punah Gabasiane, Socca Moruakgomo, Vee Scar, Mapetla , Benson Phuthego and MMP Family. He is a man of many talents who can produce any music genre with ease. He started singing at a young age for the church choir until he released his first album in 2002.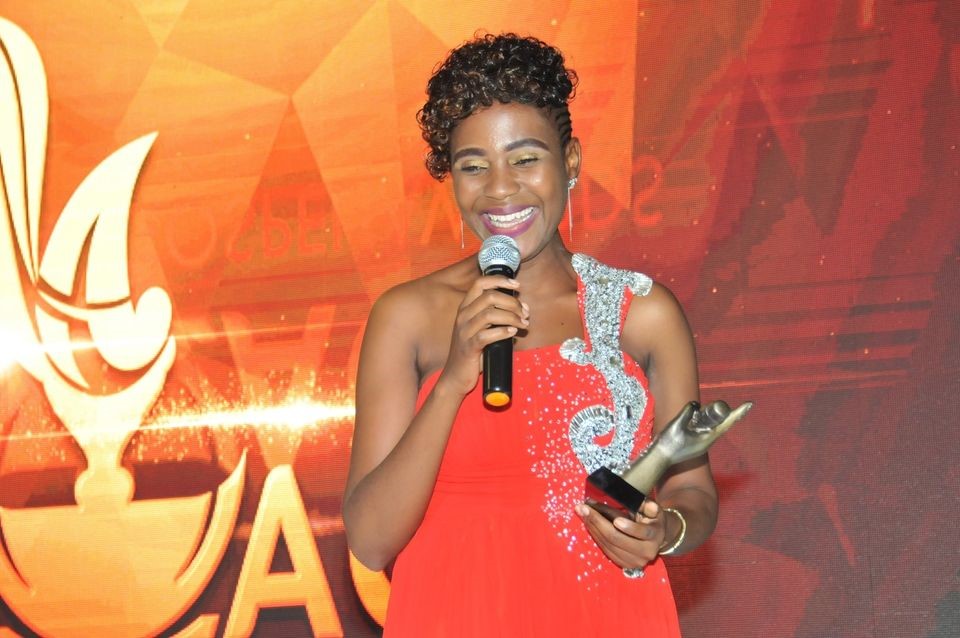 Kebadile Wasenda
Knowbotswana caught up with Lyon Thabisang Kokonyane, a Christian who knew of his musical talent as early as he was 10 years old, to share on the ever-increasing popularity of faith music in Botswana. He is renowned in local gospel music circles, even though he has released only one album to his name, however, he generally plays already existing wide-ranging gospel and is broadly in collaboration with other gospel music greats and influencers. 'I was born into church and at 10 years my path was clear where I am going,' Lyon explained. 'My inspiration comes from all hardships and triumphs I have encountered along my journey of life, for it is none other than God himself who fights my battles,' echoing a sentiment that all Christians love to hear, about the power of gospel music in paving the way for God to intervene in people's lives.  
The young multi award winning gospel artist Kebadile Wasenda known as Kaybee was born in a village called Sepopa and grew up in the small mining town of Orapa/ letlhakane.  She started singing at the age of 13 and has 3 albums under her belt (Kaybee forever,Wuaparo and Ruhakitho) She has released songs such as  Ruhakitho meaning love. She was quoted saying that "I was inspired to title my album Ruhakitho, which means love because of the love God continues to show us as human beings", (Mmegi, 25, 2018). 
The other renowned gospel music giant is Mmereki Marakakgoro. There are many…
| | |
| --- | --- |
| Lyon Thabisang Konkonyane | Kabelo Eric |
Other gospel music artists and groups include in Botswana include, Kabelo Eric, Lizzy (Anglican St. Michaels Broadhurst), Shugie Fisher, Mmereki Marakakgoro, Turning Point, Joyful Ambassadors, Ditsala Mo Moreneng, Mogoditshane UCCSA youth choir, Pastor Lesh, Agnes Ntswejakgosi, Mayoress Mochankana, Obakeng, Lebaone, Holy Presence Fire Church, Terrish, Zundithwale, Tha MVP, the Proof, Busi, Motlalepula, Prophet Tiro, Lorato Salani, Adolf Madisa, Actstream BW'.

---
HOUSE MUSIC
Botswana house music has made its mark both locally and in Southern Africa with artists such as Dj Oneal, Dj Fresh, South African Based, DJ Sly, DJ Gouvea, Groove Cartel, DJ Kucho and Dj Trex, playing in major local and regional events. Batswana DJs work together with local vocalists to mix songs and release good music for the varied local fan-base and most DJ's expanded their careers by joining the local Radio stations hosting weekly shows. 
Botswana has a good number of DJs around like the legendary Mr O, full names Owen Rampha who mentioned to Knowbotswana that he is inspired by everyday life experiences, the people around him and the industry peers. He released a 13 track album titled "tshaba tshutshu" in 2009 and featured international and regional artists such as Jani, Leroy, Helen, DJ Kuchi, Groove Cartel, the inimitable DJ Ski.
The album has songs such as Imperfect, Take Me Away and Rocker.  He has made a mark for himself internationally when he was nominated the winner of the 2005 Miler Music Tour Botswana DJ competition. He won an all-expense paid trip to the US courtesy of Miller. He has played in most countries in Africa, in Botswana covering places such as Maun, Francistown, Lobatse, Jozi, and in other places such as Durban, Malaysia, Los Angeles, San Francisco and Las Vegas; rocked alongside other DJ extraordinaire like Franck Roger, Claude, DJ Fresh, Oskido, DJ Christos, Osunlade, D-Mos, DJ Christos, DJ Fistaz, Euphonic and Monde, to name a few.
His advice to the upcoming house fanatics is to "be innovative, practice your work, be bold, trust and believe in yourself but most importantly seek mentorship from others who came before you," he said.
We also caught up with DJ Trex on his journey with house music since the 90's. Born Thato Mokgele from Mochudi he released his first album titled "revolutionised" in 2007 through EMI.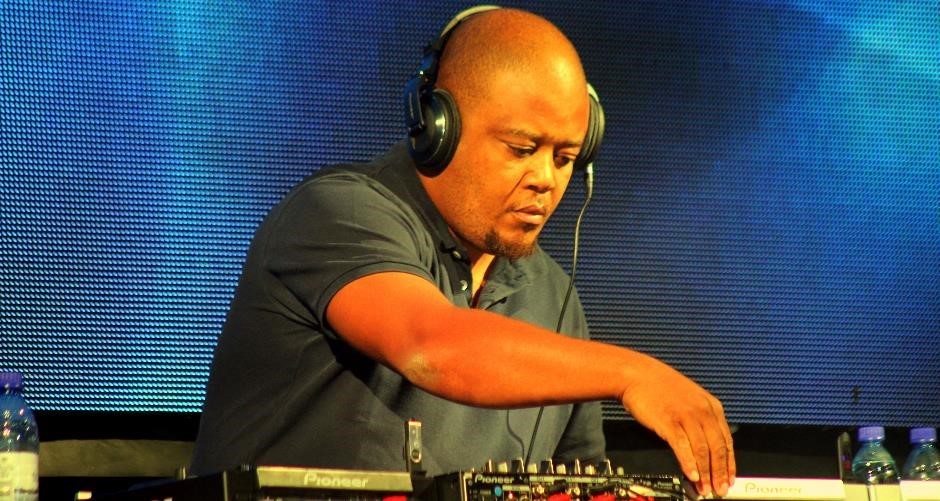 Owen Rampha
---
Truly, the above music genres are common among the new millennia generation in Botswana.  When speaking to one of the radio presenters at Gabz Fm, Galyn Khan of The Zebra Crossing show from 5pm to 7pm, new genres are played on air as compared to international music as a way of exposing local artists to massive opportunities like collaborations with other African artists and performance in foreign lands.  She also mentions popular DJs like DJ Kuchi who are famous for mixing all types of genres to produce good rhythmic beats to music lovers.
The new music genre in Botswana is well received and thriving across the country through the use of the national tv, BTV and radio stations and popular music festivals such as The Hamptons Jazz festival, Gaborone International Music Concert (GIMC) which runs for 7 days featuring all genres. A good number of radio stations play all types of genres from traditional to modern day type, which are listed here.