History of Miss Botswana Pageantry
Pageantry in Botswana started in 1962 which was during pre-independence period when the event was referred to as Miss Bechuanaland pageantry.  Only in 1967 as part of the Botswana independence celebrations the event was renamed Miss Botswana. This initiation was spear-headed by Botswana Council of Women (BCW), which is an organization that promoted values of a woman and influenced spirit of volunteerism.
The first Miss Botswana was crowned in 1967 and was won by Theresa Rantao. The Other notable Miss Bechuanaland before independence are Serwalo Gaseitsiwe in 1962, Veronica Magosi in 1964 and Lydia Tiyo in 1965. Since then to date there have been other beautiful women promoting the ideal womanhood of the nation, with the last reigning queen being Oweditse Phirinyane crowned in 2019. Due to the Covid 19 pandemic, the competition was not held in 2020.
Knowbotswana.com shares with you down below the list of winners from 1962 to 2019.
---
THE CHAT
Knowbotswana interviewed two previous queens who outshined other participants to be crowned Miss Botswana.
Sumaiyah Marope, Miss Botswana 2011

Miss Marope entered the pageantry in 2009 having attended the last auditions her home village Kanye, located in southern Botswana. She has an interesting anecdote of how she ended up in the pageantry which came about after she was actually dragged by her uncle to the auditions at the age of 22! At that young age it was important for her to have someone who believed in her talent and took the role of parenthood.

On memorable moments as Miss Botswana Marope has plenty to choose from.
"There is plenty.. but for me it generally was the whole experience. Getting to meet all kinds of people from different walks of life, being a role model to many Batswana.  The travelling, but I would say working with Child line Botswana was one of the highlights," she explained. 
---
Beauty pageantries are designed to make an impact in one's life and Marope explained that being Miss Botswana means she had to make some sacrifices, investing all your time to prepare for Miss World and engaging in community development project. It also meant that one gets to miss out on family events because whilst being a reigning queen one must face up to the challenges as they come.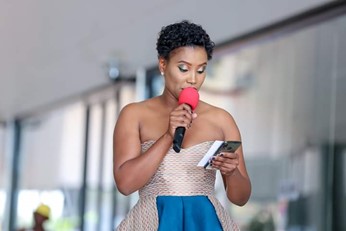 Marope encouraged youngsters wishing to participate in the pageantry that before they can think of entering pageants such as Miss Botswana they should at least finish their studies especially when in tertiary. She added that being on the platform requires so much of your attention, and it will affect ones studies.

---
Thata Kenosi, Miss Botswana 2016

Miss Botswana 2016 prize went to Thata Kenosi who won it at the age of 21 in July 31st 2016  as the 50th queen. She went on to participate in the Miss World pageant in Japan. While she could not scoop the crown she won the Miss Popularity award. During the interview with Knowbotswana.com Miss Kenosi mentioned that joining the pageantry helped to boost her confidence tremendously as a young woman and has made her more aware of the socio-economic issues within Botswana. 

Asked on most memorable memories as the crown holder of 2016, she said,

 "I have many but two stand out; first, when my team and I mobilised resources to provide the local community in the rural settlement of Mmanoko with a porta cabin for their early childhood development centre, second, when I travelled with His Excellency Lt. General Seretse Khama Ian Khama on numerous national missions".

The pageantry accords participants an opportunity to nurture life coping skills to be able to handle many challenges that come with the crown and life in general. 

Miss Kenosi added, "My greatest challenge during my reign was the immense amount of social pressure to always be on my A-game! I could never drop the ball. Everything about me from my appearance, to my community projects had to be immaculate. After a couple of months, I came to the realisation that no one expected me to be perfect. I had to learn that my mistakes made me human and more relatable to the nation."

---
THE NEW WAY - IMPACT OF TECHNOLOGY ON PAGEANTRY 
Undoubtedly technology has affected the voting system as now the audience get to vote in who they prefer. This is also enabled by the fact that media coverage of the pageantry is now country wide and information of the participants is disseminated to a wider audience. Dickson Mmaba of Jordan Productions explained that now with the use of social media like Instagram, Facebook, Twitter and on phone applications such as WhatsApp, it's easy to get all information one needs to know about the pageantry. This includes information on the organizers, prices to be won, fashion wear and the actual participants.
Giving her view, Ms. Kenosi (2016) added that technology has allowed citizens to participate in the selection process of the contestants. "A large number of the online and mobile votes is used to help select the new queen as voter participation gives a large indication of who the country wants as their new queen."  
For Ms. Marope (2011) technology has given pageantry more exposure, as young girls are now more familiar with what goes on. She further mentioned that "I still think a lot of us are still getting used to the idea of voting systems, mind you some of us come from countries with small populations, so at times it seems unfair."
From the statement above this means that the country still needs to work harder in order to get satisfying number of the voter-audience country wide. An article published a local newspaper called the Weekend Post (9th December 2019) explained that to vote one needs to  download the Miss World App, Mobstar app or alternatively vote across all social media platforms or on the Miss World website. This has proven a challenge for Botswana supporters as they experience technical hitches and a lot need to be done to bring the local supporters up to pace in order to place our queen in a better position against other competitors.
---
THE WINNERS' LIST
Following below is a list of pageantry winners in Botswana since the event started in 1962. 
1962


Serwalo Gaseitsewe


-

1964


Veronica Magosi


-

1965 


Lydia Tiyo


-

1967 


Theresa Rantao


-

1968 


Veronica Gaosi


-

1969 


Seanokeng Moranyane


-

1970 


1971 


Lilian Taunyane


Beauty Seloiso


-

-

1972 


Agnes Letshebe


-

1973 


Priscilla Molefè


-

1974 


Rosemary Molefi


-

1975 


Lucy Mosinyi


-

1976 


Ida Mpatane


-

1978 


Tshepho Chape


-

1979 


Doris Magula


-

1980 


Kefilwe Maribe


-

1981 


Shalike Kgalaeng


-

1982 


Peggy Lebum


-

1983 


Dineo Ratsatsi


-

1984 


Stella Podile


-

1985 


Keanole Radimo


-

1986 


Boitumelo Matlapeng


-

1987 


Tuduetso Tselayakgosi


-

1988 


Grace Mafoko


-

1989 


Natasha April


-

1990 


Malebogo Kgotso


-

1991 


Shale Ntsima


-

1992 


Boitumelo Ramponye


-

1993 


Mpho Lekoko


-

1994 


Hazel Kutlo Mmopi


-

1995 


Joyce Manase


-

1996 


Monica Somolekae


-

1997 


Mpule Kwelagobe 


Miss Universe 1999


1998 


Earthen Mbulawa


-

1999 


Alimah Isaacs


-

2000 


Punah Serati


-

2001 


Masego Sebedi


-

2002 


Lomaswati Dlamini


-

2003 


Boingotlo Motlalakgosi 


Miss World Talent (Top 21)


2004 


Judy Peacock 


Miss World Talent (Top 20)

World Top Model (Top 20)


2005 


Lorato Tebogo 


Miss World Sports (Top 24)


Kaone Kario 


Face Of Africa


2006 


Malebogo Marumoagae


-

2007 


Itseng Kgomotso


-

2009 


Sumaiyah Marope


-

2010 


Emma Wareus


Miss World Africa 1st Princess


2011

Karabo Sampson 

Miss World Top 20

2012 


Tapiwa Anna-Marie Preston


-

2013 


Rosemary Keofitlhetse


-

2015 


Seneo Mabengano


-

2016 


Thata Kenosi


Miss World (Popularity award)

2017 


Nicole Gaelebale 


Miss World Top 40

2018 


Moitshepi Elias


-

2019 


Oweditse Phirinyane


-

2020 


No pageant (COVID-19)


No pageant (due to COVID-19)

---
THE SUPPORT
There are numerous sponsors who have been a part of the event and making it stay relevant and competitive globally. Some of these sponsors include corporates like Cresta Hotels, Heineken, Leap Frog, local radio stations, Botswana Tourism Office, Gazelle Panache, Bofinet to name a few.

---
THE BENEFITS - IMPACT OF PAGEANTRY ON WINNERS
Participants and winners of the Miss Botswana pageantry agree that the pageantry brings positive pointers into their lives; as it is the case with everyone, they too face life's challenges but their success in pageantry helps to equip with life-coping skills. A good example is that of Mpule Kwelagobe who got exposed to the international beauty platforms, as well as Kenosi who is currently pursuing her tertiary education in one of the leading world renowned institutions in the United Kingdom.
---
Thata Kenosi with other Miss World contestants
THE WISDOM - WORD OF ENCOURAGEMENT 
The former queens, Marope and Kenosi, have encouraged aspiring beauty pageant participants to always strive for the best. They stressed that all participants, Queens and her princesses should radiate their absolute selves, abundantly and truthfully'. The year 2020 has definitely shattered one girl's dream of being Miss Botswana due to Covid19 pandemic, BCW announced that due to Covid there won't be holding the competition.