Investment Opportunities in Botswana
Mineral resources, especially diamonds, have been the cornerstone of Botswana's economy since independence in 1966, from which now the sovereign state uses the accumulated wealth to develop and diversify its economy as well as provide for its people. Increased economic activities have created a strong basis for investment across many economic sectors, for both the budding and established investor. While this site shares various reasons for investing in Botswana elsewhere, this article seeks to share some of the current investment opportunities for both the local and international investor.
---
The sectors which have shown potential for investment in Botswana include the following:
Mining industry
Manufacturing industry
Power/Energy industry
Education industry
Arts' industry
Agricultural industry
Transport industry
Financial and business services industry
Health industry
ICT Industry
---
INVESTMENT OPPORTUNITIES FOR LOCAL INVESTORS

Botswana is on a mission to be self-sufficient and reduce food imports. This is to satisfy the national principle of Self-reliance, which is one of four principles; others being Democracy, Development and Botho (humility and respect for others).
Agriculture is the best route to localize food production like fruits and vegetables, dairy products, meat products and any other products. Agriculture is one of those targeted investments that the government of Botswana is looking to promote to help diversify the economy from reliance on mining and reliance on food imports from our neighbouring countries. The government has made several attempts to invest in the agricultural industry via grants in forms of small stock, poultry and funding. This has brought the country a step or two closer to attaining its goals but more investment is required.
Batswana have the support of government through various schemes, but also have an advantage of open land for farming. 
With support from local investors, greater produce can be attained, to be able to supply large stores like Choppies, Spar, Sefalana and other similar stores across the country. The government programme promotes farmers' collaboration to increase product output, with the help of an investor of course. Collaborative farming reassures large stores of consistent supply which may ease fears of such stores from terminating supplier contracts with foreign-based producers.  
A young farmer shared a view on the significance of investor support. With the help of an investor, he could increase his produce quantity as well as quality and open doors for him to large markets where he can supply his produce. With the right equipment and enough funds his agri-business can grow into the large supply business it has potential of being.
During the difficult times of Covid-19 pandemic impacting on international trade, agricultural produce becomes a cornerstone of any economy, moreso for Botswana which has vast open land for profitable horticultural and pastoral farming activities.
Investments for the education industry can come from both local and international investors. However, the appeal is to local investors. International investors are continually investing in Botswana's education via full scholarships awarded to locals. Botswana's education industry has a lot of room for improvement and therefore has large opportunities for investment.
There is evidence of Batswana making inroads into the education sector, but it has mainly been predominant in the pre-school levels with kindergartens coming up across the country. Whereas government has done significantly well in providing full coverage of primary and secondary schools education, there is still room for private educators in the levels, and significantly in the tertiary levels.
Opportunities presented by the manufacturing sector cover a wide array of sectors such as food and beverages, textiles and garments, jewellery making, metal and metal products amongst others. The need to develop a diversified and robust manufacturing sector is a key agenda in government efforts to identify potential growth areas beyond the exploitation of its mineral wealth, which has been central to Botswana's economy. Batswana should take notice of the potential and varied set of manufacturing products and services to invest in. 
Botswana's ICT industry which includes postal services, print media, radio and television is growing, particularly in mobile cellular services which outpaces the development of fixed telephone lines. According to the 2020 ICT Statistics Report, fixed telephone line subscriptions decreased by 1.6 percent in Q1 2020 whereas internet subscriptions experienced a slight increase during the quarter as it rose by 0.3 percent fromQ4 2019  to Q1 2020. This goes to show that the ICT industry is a worth while field to invest in.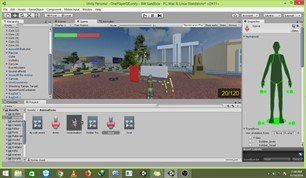 Recently, there are locals who are venturing into video games creation. Edwin is one of those people. He has created a video game called Freewill in GC. This game features the city Gaborone, also referred to as GC.
The idea around the creation of this game was to create an accurate 3D model of GC and create characters that users can use to play the game. The game can currently be played in a first person & 3rd person perspective.
An investment would help them expand and stand out, and allow them to use high quality equipment that will enable them to create a high quality game that's actually good enough to earn a significant return.

The technological industry is also one of the fast-growing industries in the country. Technological developments are constantly changing for the better and everyone is always looking for the next best thing. Similarly, there is potential in the area of network reception. Investment in improvement of the available networks would give that network a competitive edge.
---
INVESTMENT OPPORTUNITIES FOR INTERNATIONAL INVESTORS
Currently, the Botswana Power Corporation a state-owned enterprise is the only institution that provides electricity for the entire nation. BPC is doing an exceptional job at providing the entire country with power, but a second or third outlet providing power by regions would make all the difference for Botswana. There is definitely an investment opportunity for foreign investors to make inroads in the sector.
According to BITC, a joint venture between the Japanese giant Marubeni and the South Korean Pasco Energy will expand Morupule B Power plant. This is expected to ramp up production from the current 600MW by an additional 300MW. Additional plans included a possible further expansion by 300MW to 1200MW thereafter. This is currently benefiting the country but is still not enough.
With more foreign investment, Botswana can have more power plants and more than one supplier of electricity. Or just to have more power plants supplying BPC can allow the organization to supply electricity across the country without relying on any other external source.
Opportunities for investment in the mining sector include prospecting and surveys, expansion of existing mining projects, new mining projects, beneficiation of minerals and improved value chain benefits. The beneficiation of diamonds represents one of the most promising areas of opportunity.
The Botswana diamond hub was established to develop a sustainable secondary diamond industry. To facilitate the establishment of diamond ancillary business, 28 licensed cutting and polishing companies are in operation, mainly centred in Gaborone. The potential exists to expand operations to other parts of the country. This would be a very lucrative investment for foreign investors, and it would also benefit the economy as a whole.
ARTS AND PERFORMANCE INDUSTRY
The Botswana Television (BTV) national broadcaster needs supplementary content from private producers, which presents an opportunity for investing in the creative industry. There is a high level of the creative industry skills due to training and the presence of tertiary level institutions for creatives. There are a lot of unemployed graduates in film making and other similar courses. international investors can put money into funding new shows that can be featured in the local channel.
International investors could also open performing arts' schools in Botswana where only arts' courses are taught, like contemporary dancing and other dance styles, singing, poetry, storytelling, script writing, painting, journalism and presenting etc. There are a lot of people who are not academically gifted but have amazing talent when it comes to the arts and such an investment would benefit them immensely.
The creative industry appeals to young people in particular, it is the sector that gives opportunity for one to unleash their God-given talent and make a career out of it. Generally, those who excel in the industry mostly take their talents out of the country where the creative industry is more lucrative. This goes to show that this industry needs investment and can be very lucrative for international investors.
According to BITC, there is a need for robust infrastructure especially in the face of possible economic growth and the subsequent need to reach export markets. Being a land-locked country, Botswana needs access to near-by depots. The 1500km long valued at US$15bn Trans-Kalahari railway is one huge project that will go a long way in harnessing such efforts linking Botswana and the Namibia port of Walvis Bay. More investment in this industry will see the country's transportation infrastructure improving immensely, and not only limited to the roads, the type of transportation used can also improve with the help of investors. Botswana needs to expand to electric trains and other similarly advanced forms of transportation.
FINANCIAL AND BUSINESS SERVICES INDUSTRY
According to BITC international business companies present the most immediate potential for growth in Africa from an IFSC platform. International business companies cut across sectors and operate in several sub-Saharan countries and are typical investment companies, set on regional headquarters operations.
The Botswana healthcare system is comprised of both government and private sector service providers. Public sector healthcare services are provided free or for a minimum fee to citizens and foreign nationals pay reasonable subsidized fees.
Partnership with international institutions and investors would help improve the health sector as there is large room for improvement when it comes to the healthcare system and quality of care.
---
Perhaps, it is fair to observe that there are many investment opportunities in Botswana. The country has growth potential with industries that both local and foreign investors can invest in over and above those mentioned here. A lot of young Batswana entrepreneurs today with brilliant business ideas need investments to make the business ideas a profitable reality. Investment in serious entrepreneurs would benefit the country, potential employers and employees, the business owners, the country's economy and improve the living standards of people.