Lobatse
Myth about origins of Lobatse
There is a myth about cattle rustlers who regularly raided cattle from the settlers living in the mountainous area around Lobatse.
However, after some time the cattle owners wised up and decided to hide their livestock in the mountains, and instructed their close relatives to deny any knowledge of the existence of these cattle.
The meaning of Lobatse directly translates to 'deny any knowledge of these' in reference to the cattle in the folklore. Thus, the area was named Lobatse.
---
Home of Botswana judicial system
Lobatse is about 70km to the south of Gaborone, and holds the judicial system seat of Botswana.
The town was the first place in Botswana to have developments when a 5km tarred or tarmac road was laid as preparation for the visiting Queen Elizabeth of Great Britain in 1958.
At the time it was intended that Lobatse become the capital city of Botswana, however Gaborone was eventually chosen as the capital.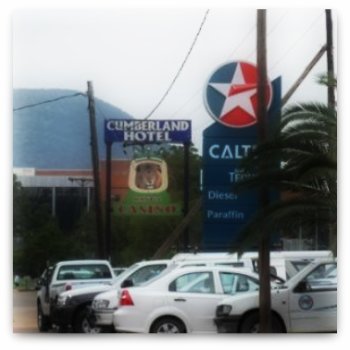 ---
Best of Botswana beef for exportation
Lobatse is a thriving city with a population of about 30,000.
The town is popularly known for the Botswana Meat Commission, which is official exporter entity of Botswana beef to international markets.


---
Return to Botswana Cities and Districts page
Return to KnowBotswana homepage